Christmas Liqueur 50cl
00014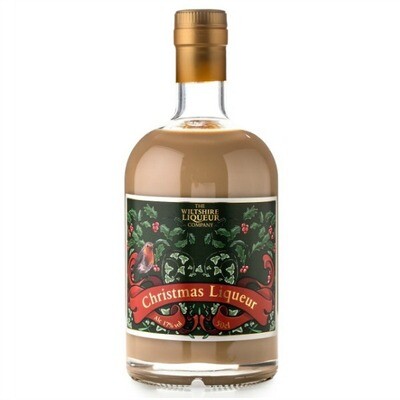 Signature Liqueurs
Dangerously Delicious, Satisfyingly Smooth
Indulge yourself with our luxuriously smooth and captivatingly creamy Christmas Liqueur.
Based on a traditional Irish cream recipe using the finest whiskey and fresh cream, this is the perfect accompaniment to a cosy winter's evening. Described by fans as incredibly smooth and more caramel than some other recipes, people love this exceptional liqueur.
We produce a limited number of bottles every year, during the Christmas season only. Once it's gone, it's gone!
One bottle is never enough, so order your festive supply today.
Ways To Enjoy Your Christmas Liqueur
Pour over ice for a cosy fireside drink on Christmas Eve
Drizzle over mince pies and ice cream for a festive guilty pleasure
Mix with equal parts vodka and cold expresso coffee for a warming winter treat
Enjoy with your feet up after a hard day Christmas shopping
This product contains cream and is, therefore, best kept in the fridge once opened.
Learn more about Wiltshire Liqueur Christmas Liqueur
Your bottle comes embellished with a unique Christmas inspired gold foil label
Comes with free UK delivery. For more information about delivery, see our full delivery information
As with all our products, our Christmas Liqueur comes with a gift card to add your festive message. However, due to the special gold foil labels, we cannot offer our personalised labelling service for this liqueur.
ABV 17%
Available in 50cl bottles
Bulk discount available. For further information, see our full delivery information
What Do Our Customers Say?
A blummin lovely drop
It's become my new favourite Christmas drink
Too dangerously delicious for me to buy
I'm finding it very hard not to open mine. As once I do, it will all be gone
Once you've had this Christmas Liqueur you'll never go back
Our whole village loves this stuff
This Christmas liqueur is amazing!
It's sooooo gorgeous
I've already drunk mine….I need to get another!
FAQs
Question: How long will it last?
Answer: As this product contains cream, it is best kept in the fridge, where it will stay delicious for about 9 months


Tip
Fancy trying something a little different? Mix 2 parts Christmas Liqueur with 1 part tequila and pour over ice for a feisty Christmas cocktail.