Christmas Liqueur 50cl
00014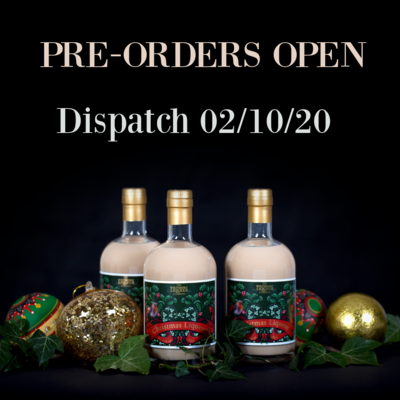 Signature Liqueurs
AVAILABLE NOW FOR PRE-ORDER - Orders dispatched 2nd October
Our Christmas Liqueur 2020 officially launches on the 2nd October. With a limited annual stock, once it's gone, it's gone. With eager fans already getting in touch to order early, the shop is open from the 24th September for pre-orders.
Based on a traditional Irish Cream recipe using finest whiskey and fresh cream, this is the perfect accompaniment to a cosy winter's evening. Described by fans as incredibly smooth and more caramel than some other recipes, people love this exceptional liqueur.

Enjoy after an exhausting day's Christmas shopping, sip whilst wrapping up presents or simply enjoy with family and friends for an Autumn and Winter treat. The beautifully hand drawn designed labels are a lovely addition to the Christmas table.
Available in 50cl bottles with an ABV of 17%.
As with all our products, our Christmas Liqueur comes with a free gift card to add your own personal message. However, due to the special Christmas inspired gold foil labels, we are unable to offer our personalised labelling service for this liqueur.
Our Christmas Liqueur is only available during the festive period from October until the end of December.
Our Christmas Liqueur comes with FREE delivery.
See more about all our delivery options