Humbug Gift Set
00023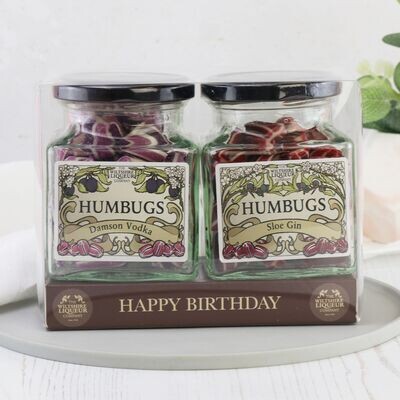 Gift boxes
This humbug gift set contains two 160g jars of our exceptionally fruity liqueur humbugs and comes perfectly packaged with a selection of gift messages for you to choose from. Buy for birthdays, Father's Day and more.
Liqueur Gift Set in Your Favourite Flavours
Available in your favourite Wiltshire liqueur flavours, these fruity humbugs will delight your taste buds and tease your tongue to distraction. Pick your favourite flavours and set your mouth tingling.
Choose your humbug flavours from:
• Blood Orange Liqueur
• Damson Vodka Humbugs
• Sloe Gin
Choose your message from:
• Happy Birthday
• Merry Christmas
• Happy Mother's Day
• Happy Father's Day
• Happy Valentine's Day
• No Message (Liqueur Humbugs)
As with all our products, our humbugs also come with a free gift card to add your own personal message.
Learn more about the Wiltshire Liqueur Humbug Gift Set
These terrific humbugs are creatively made by a clever UK based confectioner using traditional methods.
All our products including these delicious treats come with free UK delivery.
To enjoy your liqueur humbugs at their best, we recommend storing them in a cool, dry place.
These fantastically fruity humbugs are also available in individual jars and our pick and mix gift boxes
All of our humbugs are suitable for vegetarians and vegan. They are also gluten-free.
Ingredients


Blood Orange Liqueur Humbugs
Sugar, Glucose Syrup, Water, Malic Acid, Orange Flavouring and Blood Orange Liqueur, Colours E102, E129 & E171
Damson Vodka Liqueur Humbugs
Sugar, Glucose Syrup, Water, Malic Acid, Damson Vodka Flavour, Damson Vodka, Colours E122, E133 & E171
Sloe Gin Liqueur Humbugs
Sugar, Glucose Syrup, Water, Malic Acid, Sloe Gin Flavour, Sloe Gin, Colours E129, E153 & E171
FAQ
Question: Will they get me drunk?
Answer: Whilst they are made with real alcohol, the content is 1.2% or less. This means that no, you won't get drunk. It also means that no age restrictions apply.
Tip
If you are a mega humbug fan, we have a bulk discount available. For further information, see our
delivery information